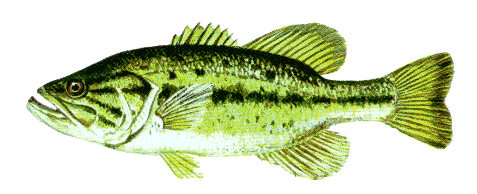 ---
Howdy and Welcome to the "Cove".
What's this all about?. It started out a a little place for me to show off and tell people about a couple of passions of mine. A lot has gone on from those first days of the "Cove" Today you'll find that "Project Rapala" & The "Photo-Cove" are the main focus.
All the pages I have here can be found down on this page or here..Table of ContentsThe Table of contents page will show all new page additions and descriptions of each page.
Want to keep current, What's Bass up to and where is he? It all can be found on this new page.Where's Bass? click here.
A little info about myself. I've been a Michigander all my life. I can't really explain the enjoyment I have about this State and the Seasons we have here.
I have been a Professional Cook for over 20 years now (With A great Era Of being a Kichen Manager) At the BEST place I ever had the chance to work at. I also enjoy several outdoor activities, fishing, hunting, hiking, photo-takin. I also have a passion for Rapala Lure's (For those that didn't know!) It's a passion if you wander through the pages here you'll begin to understand.
Well, I hope you'll be able to find something here that you find enjoyable to look at or some info on my hobby, collection, what I like to call "Project Rapala"
Steve "Bass, Rapala-Guru"
---
Just some of what ya will find here.
Click on a bobber to go to a different page.


TheBassman's Fishing Antiques page and list of related sites.


A NEW name with the same information. I've renamed this section and added it's own 'table of contents page. The "Project Rapala" pages (some 22 pages now) contain a lot of information and scans(images) of some of the Rapala-Normark items in my collection. Catalogs, Lure's, Box style's, color codes, Knives and a lot of other items.
Use the "Project Rapala contents pg. to help in finding each page.
Updated Oct 24th, 2001

Grand Opening!!!
The "Farm" Photo Cove has moved!!
In an effort to keep all this stuff sorted out. The Photo Cove has moved. It contains some great photo's of my outdoor adventures and some of the places I like to go. Sights and scenes from around this great state I live in. Worth a look in ya have a few minutes.

---
UPDATE!!
I suggest you update the main page url in your favorites. it's now TheBassman.tripod.com
RAPALA TALK!!



Rapala Talk has changed. The button / link will now take you to Fishooked forum on All things Rapala. It's has much better features than the my board did.
I invite everybody to check out this forum. A nice bunch of guys posting out thoughts, wants, and odd tidbits about Rapala or fishing with rapala's. Come check it out!
Check the Table of Contents pg&nbspto get each page.

---
Special Thanks to:
Sarah, What can I say. Buffett rules and the I-man is the best. Who says mom's aren't hip.

James and MJ, What roads we've seen. All I can say is thanks and "what a long strange trip it's been".

---

you're the
to cast into this spot.

Sign My Guestbook
View My Guestbook
Click on the Awards above to Visit these GREAT sites.
Got a question on Rapala's
Disclaimer: I in no way Intended to infringe on any copyrighted images on these pages. If I have, please drop me a note in the e-mail icon above. I'll do my best to give credit to those that have let me use their images.
I took the time to write e-mails to people to get permission to use some of the graphics you'll see on this page.
This site made With Web-Tv.
Hosted By Tripod.